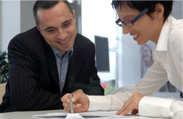 Unlike medical coding which requires certification and ongoing education, medical billing does not have these requirements. As a consequence, the quality of billing varies significantly from one practice to another and even among professional billing services. How do you resolve this problem for your practice?
Advanced Practice Billing (APB) provides practical and specialized training to assist the medical billing community. Our knowledge has evolved from many years of "hands on" experience. Our mission is to increase billing efficiency and maximize practice revenue.
We offer webinars that are affordable, target specific billing issues and require less than one hour to attend
Did you know that most insurance companies are masters at "bundling" multiple services? This is how many doctors lose money………...at the rate of one, unpaid service at a time!
Claims are Denied or "Bundled" for one of the following reasons:
1. The claim is not clean. (provider credentialing issues, practice set-up, ID numbers, NPI numbers, etc.)
2. Patient information. (patient's name and/or insurance information is not correct or current)
3. Billing omissions. (inappropriate modifier, medical necessity is not met, diagnosis code is invalid, service was performed within a global period, no referring provider, place and type of service, etc.)
Every insurance claim submitted produces an "explanation of benefits" (EOB). Whether the claim is paid or denied (or partially denied), your practice depends on the proper handling of this data. Insurance companies make it very easy, even for experienced billers, to adjust off money that could be collected. Our webinars will help you eliminate unnecessary write-offs!
Whatever your specialty, if you are bringing patients back for subsequent visits because you believe it is necessary to get paid for multiple services, it is time to invest in billing education!
We also offer Billing Support: This is a unique service that provides you and your staff with on-going access to have your billing questions and problems resolved. Click here to learn more.
Our commitment is to share valuable knowledge that will improve your practice's bottom line. From billing techniques to internal policies and procedures, we know the issues and shortfalls that hinder success. We believe that physicians should be compensated for every service they provide. We expect this result………and we get it!